Pharmacoeconomic‬ evaluation study prize
March 30th, 2017
Congratulations to Nestor Correa, Dunja Vukić and Shereen Aly who won the Eu2P expert jury prize for their pharmacoeconomic‬ evaluation study proposal: "Cost-effectiveness of pharmaco-genetic testing before LABA in paediatric patients with asthma in the UK".
This study proposal was conducted under the assignment running over the different parts of the Master & Certificate course module Principles of pharmacoeconomics and valuation of health states and presented online during the live meeting session on March 30th.
🆕 Course on Effectiveness Research
Treviso, Italy June 5-10, 2017 Apply by May 24th, 2017
Apply to this new Eu2P Certificate course which is based on the course block 3 Effectiveness Research with Longitudinal Healthcare Databases delivered by Harvard Medical School lecturers in Italy during the Summer School on Modern Methods in Biostatistics and Epidemiology in Italy.
This course is accredited by the Eu2P Executive Board and will qualify for Eu2P academic certificates under the following conditions:
You should register via the Eu2P registration system, fees and conditions
Registering to the face-to-face summer course only via http://www.biostatepi.org/ is possible but will not entitle to the Eu2P accreditation of the course
Attendance to both online and face-to-face courses is mandatory
Online material will be available on our eLearning Platform in May
You should pass the course assessment during the face-to-face course in Treviso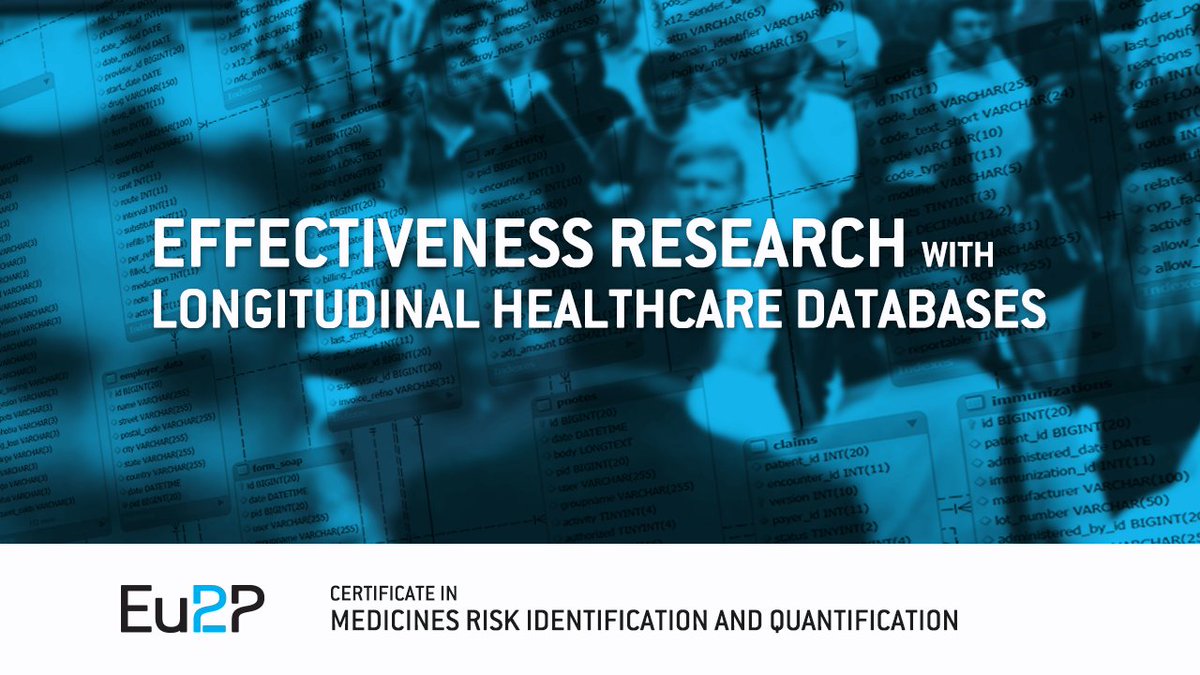 2017-18 Master applications
Before June 25th, 2017
Applications for the next Master programme sessions are open from February 01st to June 25th, 2017.
Your application must be submitted online through your My Eu2P account.
First term Certificates applications 2017-2018
Before Sept 08th, 2017
Do not forget to register by September 08th for the following 1st term certificate courses!
Introductory level courses:
Intermediate level courses:
New Eu2P PhD research work published
07 December 2016
Congratulations to Josep Pané who has published an article in Drug Safety: "Evaluating the Safety Profile of Non-Active Implantable Medical Devices Compared with Medicines".
Findings particularly highlight the need of all stakeholders to develop a more proactive medical device safety evaluation process including real-world data to develop a risk assessment model!
Article available at http://link.springer.com/article/10.1007/s40264-016-0474-1
New Eu2P Master research project work published
Congratulations to Hager Ali Saleh who has published an article in the European Journal of Pharmaceutical and Medical Research: "Knowledge, Attitude and Practice of Health Professionals towards Adverse Drug Reactions Reporting": The research leading to the publication results has been performed during Hager's Eu2P Master research project.
Findings particularly highlight sources of ADR reporting improvements by healthcare professionals!
Article available at http://www.ejpmr.com/home/abstract_id/1313
Short Courses in pharmacovigilance and pharmacoepidemiology
Eu2P has recently launched a new Short Course offer to provide healthcare professionals with bite-sized courses to cope with very specific training needs and limited study time, any time online.
With Short Courses, you can build a highly personalised training programme and get certified!