Eu2P 10th anniversary celebration
University of Bordeaux September 26, 2019
Ten years ago, the Eu2P project started to set up an innovative European MSc training programme in pharmacovigilance and pharmacoepidemiology. All Eu2P former and current stakeholders have been invited to celebrate this unique achievement and reflect on the future of pharmacovigilance and pharmacoepidemiology education with experts from the EMA PRAC and CHMP, the Uppsala Monitoring Centre and the Université de Montréal. This is also an opportunity to hear from our Alumni about the impact of their Eu2P education.
This event will take place in the Université de Bordeaux and we will be honored to have the President of the Université de Bordeaux, Prof. Manuel Tunon de Lara, introducing this very special celebration day!
Eu2P 10th anniversary celebration programme
Eu2P 10th anniversary celebration PR
Follow #Eu2P10 on Twitter for more info on this event and Eu2P's achievements so far.
Eu2P Freshers' Week
University of Bordeaux September 25, 2019
The next Eu2P Master Freshers' Week will take place in Bordeaux on September 25 2019.
Do not miss this chance to meet Eu2P trainers and students in real life, get familiar with the Eu2P Master modules and specialisations. Meet the Eu2P office team and get trained in the use of the Eu2P e-learning platform.
A very special Eu2P 10th anniversary celebration event will take place on Sept 26. This is a unique opportunity to hear from great pharmacovigilance and pharmacoepidemiology experts, listen to Eu2P alumni telling us their success story and congratulate the newly-awarded Master trainees!
Cannot make it to Bordeaux? You can alternatively follow the Freshers' Week presentation online (but not the anniversary celebration event!).
Stay tuned: #Eu2PFW
2nd term Certificates applications 2019-2020
Before Dec 08th, 2019
Application period is closed now. The applicant selection will take place between December 09th and 12th, 2019.
Introductory level courses:
Intermediate level courses:
Eu2P students' feedback
2017-2018 students have now completed their studies. Read what they (and former Eu2P alumni students) think about their Eu2P training experience!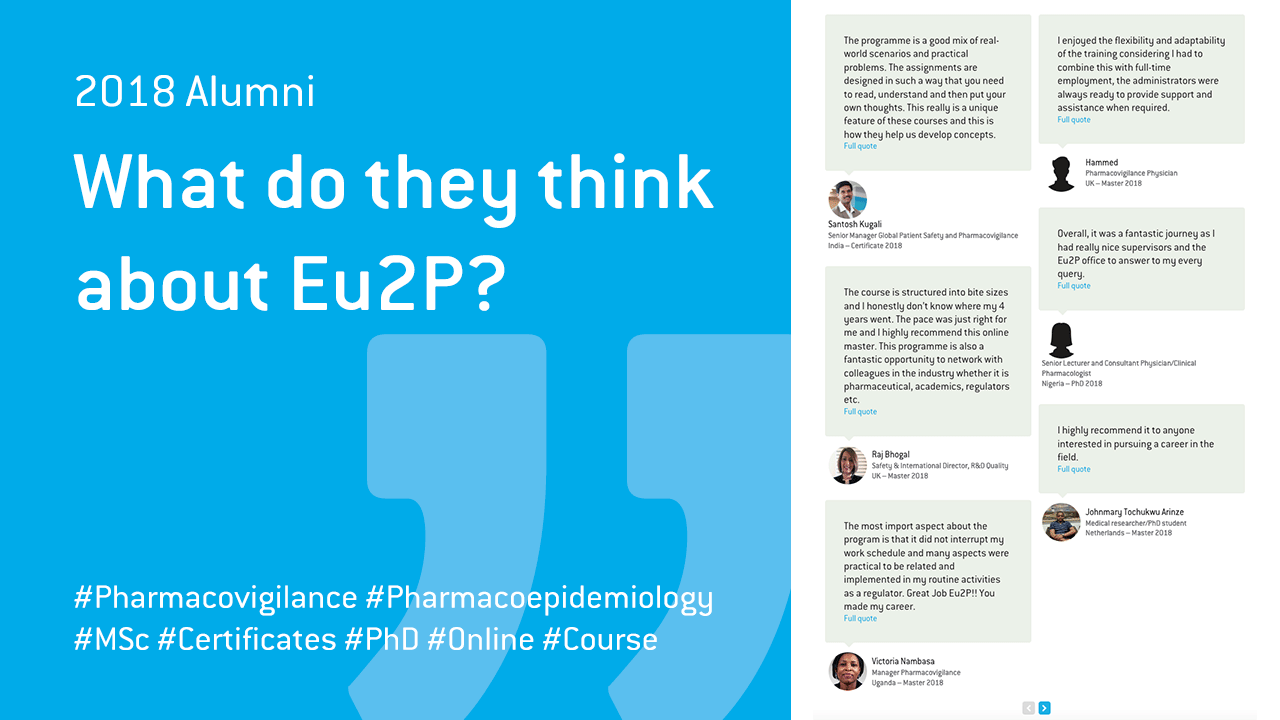 New Eu2P elearning platform demo video
Discover Eu2P online learning for our Master, Certificates and Short Courses!
What is required? How to access the Eu2P eLearning platform? What do online learning activities look like?
Check our eLearning guide page for a video guided tour and student testimonials!
Short Courses in pharmacovigilance and pharmacoepidemiology
register anytime
Gain fast and solid expertise in Drug Safety with Eu2P online Short Courses: bite-sized courses to cope with very specific training needs and limited study time.
Either pick one Short Course or build your highly personalised training programme and get certified!