Eu2P MASTER SECOND YEAR PROGRAMME
As for the Master Year 1, the Master Year 2 programme is half-composed of theoretical training (the course modules) and practical training (the research project).
The Master Year 2 trainee must successfully complete the theoretical and the practical trainings to be awarded the Eu2P Master in Pharmacovigilance and Pharmacoepidemiology.
For this second year of Master, the trainee is invited to choose a specialisation track that fits current or future professional needs.
The Eu2P Master programme is delivered by the Eu2P Academic Partners lecturers and experts from the 2 regulatory agencies and 15 industry partners belonging to the Eu2P consortium.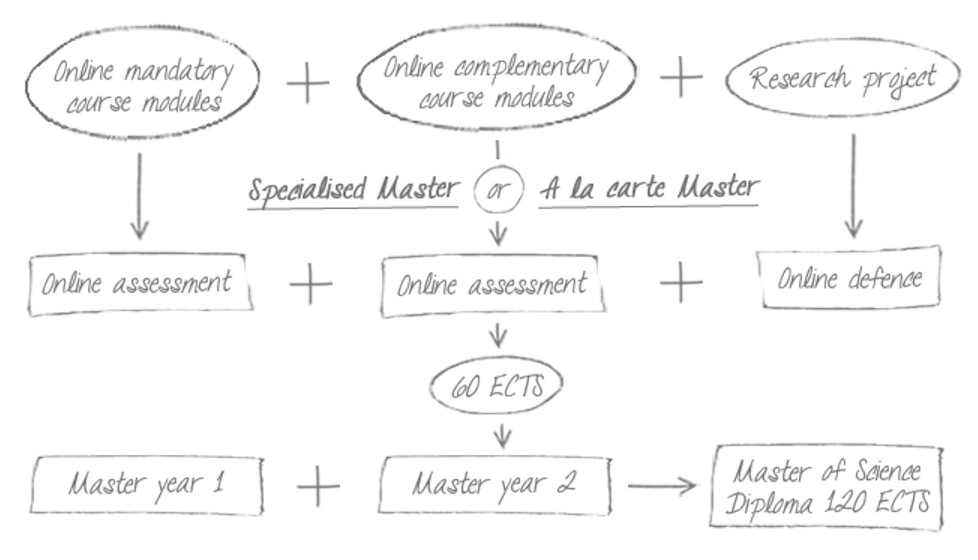 Two teaching scenarios are proposed to the Master Year 2 trainee: "Specialised Master" vs "A la carte Master"
Each scenario must include enough course modules to validate a total of 30 ECTS credits on full-time or on part-time pace (i.e. in one or two years duration).
Specialised Master
All mandatory modules have to be selected (see the black modules row)
A complete specialisation track has to be selected (see one track column)
Complementary modules have to be selected among remaining modules to overall validate 30 ECTS credits
"A la carte" Master
This choice aims to provide a broad knowledge of all Master specialisations. This track is composed of four modules of your choice among the Master specialisations.
All mandatory modules have to be selected (see the black modules row)
Complementary modules have to be selected among the remaining modules to overall validate 30 ECTS credits.
Module and track organisation
Evaluation
Each course module is appraised through continuous and/or final assessment.
The master Year 2 trainee must at least obtain the "pass" grade in each module, whether their course modules are mandatory or complementary.
Each Master trainee must conduct a research project in parallel to the theoretical training along the academic year. This research project can be achieved within an academic, regulatory or private body (see Master Programme FAQ for further details).
Note: If you are employed, you can perform the research project on your employer's premises.
Evaluation
This research project is appraised through three separate assessments on:
the research project supervisor evaluation
the project written report
the oral defence of the research project report
The Master Year 2 trainee must at least obtain the overall "pass" grade for the research project to validate the practical training part of the Master second year programme.
PARTNERS' SAVING
Eu2P programme is made by a Public-Private consortium.
Each Eu2P partner benefits from a special price on Eu2P tuition fees for their students or employees!
Saving for ...
Student
in a Eu2P University
Employee
in a Eu2P agency, company or affiliate
Certificate fees
- 50%
- 30%
Master year fees
- 20%
PhD year fees
- 20%
REWARD PROGRAMME
Gain up-to 20% of savings when studying with Eu2P!
Eu2P gives you reward points each time you register to a Eu2P Certificate or Master programme (One point amounts to one euro).
You can redeem these points and get savings on next course tuition fees!
MASTER & PhD GRANTS
Eu2P offers a limited number of grants to Master and PhD selected applicants to cover partial Master and PhD tuition fees.
Eu2P grants are awarded by the Eu2P consortium and private organizations on the appraisal of the applicant's status regarding:
Academic performance
Professional ambition and environment
Personal situation
Any special and financial circumstances that may affect his/her Eu2P training performance
Grant application & appraisal
During on-line Master or PhD application, you can confirm that you wish to apply to a grant. Following your successful Master or PhD selection, you must provide a statement regarding the most relevant reasons to support your grant request:
Certified true copies of your official academic transcripts not already included in your online application
A brief statement regarding your professional ambition and environment/location
Statement of proof of special personal or professional circumstances
The application procedure and the selection process are the same for all, regardless of whether you come from Eu2P partners or not, from European or third countries.
All grant applications are ranked by the Eu2P Board. You are warned about your grant application status by e-mail.