ADVANCED QUANTITATIVE BENEFIT-RISK ASSESSMENT METHODS IN DECISION MAKING ON MEDICINES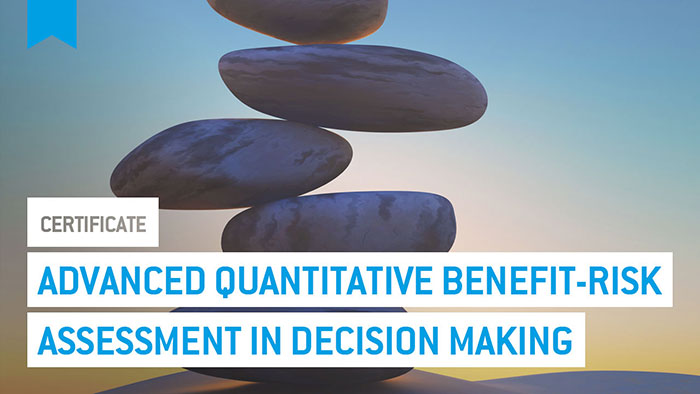 OBJECTIVES

Decision making on medicines informed by quantitative benefit-risk assessment may differ depending on the perspective of the decision maker and the phase of drug development.

This module will address the decision-making on medicines by different stakeholders and how to apply advanced benefit-risk assessment tools in this process.

MODULE PARTS

Multi-criteria decision analysis
Conjoint analysis
Personalized benefit-risk assessment

TRAINER TEAM

Coordinator: Satu Siiskonen (from Universiteit Utrecht)

Expert(s): Prof Olaf Klungel, Dr Rianne Van Den Ham, Dr Jet Van Der Zijden, Dr Tjeerd Van Staa, Dr Rob Heerdink, Prof Anke Hilse Maitland - Van Der Zee (from Universiteit Utrecht), Dr George Quartey (from F. Hoffmann-La Roche Ltd), Dr Filip Mussen (from Janssen Pharmaceutica NV), Dr Hans Hillege, Dr Douwe Postmus (from University Medical Centre Groningen).

Advanced level
75 h workload over 3 months (3 ECTS credits)
Key dates
Course calendar
Certificate award
or included in Master Year 2 or PhD programme
English language
Online based learning
Student : 1,500 €
Professional : 3,000 €
Savings could be offered under eligibility conditions.

Or include this module in your training curriculum choices...
PARTNERS' SAVING
Eu2P programme is made by a Public-Private consortium.
Each Eu2P partner benefits from a special price on Eu2P tuition fees for their students or employees!
Saving for ...
Student
in a Eu2P University
Employee
in a Eu2P agency, company or affiliate
Certificate fees
- 50%
- 30%
Master year fees
- 20%
PhD year fees
- 20%
REWARD PROGRAMME
Gain up-to 20% of savings when studying with Eu2P!
Eu2P gives you reward points each time you register to a Eu2P Certificate or Master programme (One point amounts to one euro).
You can redeem these points and get savings on next course tuition fees!
MASTER & PhD GRANTS
Eu2P offers a limited number of grants to Master and PhD selected applicants to cover partial Master and PhD tuition fees.
Eu2P grants are awarded by the Eu2P consortium and private organizations on the appraisal of the applicant's status regarding:
Academic performance
Professional ambition and environment
Personal situation
Any special and financial circumstances that may affect his/her Eu2P training performance
Grant application & appraisal
During on-line Master or PhD application, you can confirm that you wish to apply to a grant. Following your successful Master or PhD selection, you must provide a statement regarding the most relevant reasons to support your grant request:
Certified true copies of your official academic transcripts not already included in your online application
A brief statement regarding your professional ambition and environment/location
Statement of proof of special personal or professional circumstances
The application procedure and the selection process are the same for all, regardless of whether you come from Eu2P partners or not, from European or third countries.
All grant applications are ranked by the Eu2P Board. You are warned about your grant application status by e-mail.