THE Eu2P PROGRAMME
THE REASONS TO STUDY AND IMPROVE YOUR CAREER WITH Eu2P
Meet the job market needs!

Eu2P trainings are provided and updated by a unique partnership of seven Universities, fifteen pharmaceutical companies, the French and the European medicines agencies.

Find the training that fits your profile!

Eu2P is designed for graduate and postgraduate students in health and life sciences, for healthcare professionals and for non-specialists.



Join a network of expertise!

Eu2P gathers experts from research groups of high repute, used to work together and involved in European network projects and international societies.

Get valuable diplomas!

Master, PhD and Certificate are jointly awarded by Eu2P academic partners and recognized by all Eu2P regulatory and industrial partners.



Be enrolled in a European initiative!

Eu2P is funded by the European Commission through the Innovative Medicines Initiative to provide a common understanding in benefits and risks of medicines to all stakeholders.

Enjoy on-the-job training!

Eu2P courses are designed to be modular and flexible for all trainees. By choosing e-learning, you can learn anytime, anywhere!
THE Eu2P DIPLOMAS
THE JOINT EUROPEAN AWARDS
Certificate

Each course leads to a Certificate jointly awarded by Eu2P Universities.

Master

A curriculum in one year or two years leads to a Master degree jointly awarded by Eu2P Universities.

PhD

A doctoral programme leads to a PhD degree jointly awarded by Eu2P Universities.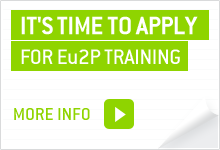 ---
NEWS & EVENTS
Apply to the Master !
Application for the next Master programme session are open from February 01st, 2016 to June 26th, 2016.
Your application must be submitted online through your Eu2P account.
---
Apply to a Certificate in 2016 !
Students, healthcare professionals and non-specialists can apply online to Eu2P Certificate programme in 2016. Please check each course description page for information.
---
2016 Master Programme Launch
The next academic Master programme will start by a fresher's week from Sept 28 to 30, 2016 in Bordeaux.
---