E
u

2P SHORT COURSES OVERVIEW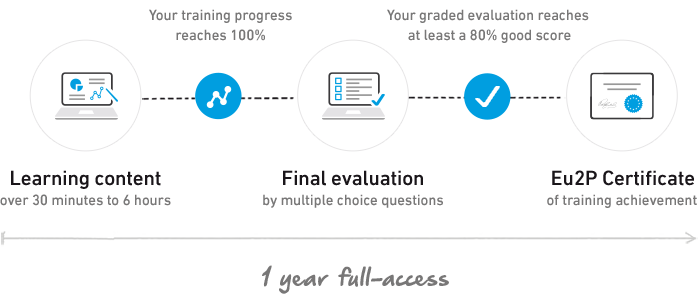 Get a Certificate of Training Achievement
The Eu2P short course is a training designed for professionals who want to get an up-to-date, quick and solid knowledge. This programme leads to Awards in pharmacovigilance and pharmacoepidemiology jointly acknowledged by the European Universities working together as Eu2P partners.
Choose a flexible online programme
Time availability compliance
Awarded for e-learning quality, Eu2P online courses can be attended from home or work. The average course workload is less than 2 hours. The learning activities can be followed according to your wish. You can start a learning activity then stop and start another one, then come back later to the one you have firstly opened. The Certificate is awarded after a final assessment.
Affordable prices
Eu2P short courses are affordable - between 100 and 500 € per course for a yearly registration per person.
Eu2P welcomes worldwide pharmaceutical companies into its short course programme and provides quotes tailored to their needs in terms of content, duration and number of collaborators.
See company offer.
*: ENCePP, Nature and Science job market papers. See Eu2P Quality Indicators.
Get a valuable Certificate for job market
A recognised quality for audit inspections
Eu2P programme ensures and controls up-to-date knowledge, expertise and qualification of medicines related collaborators from individuals to large teams.
Designed for experts by experts
The Eu2P Short Courses are built and recognised by all the 24 academic, regulatory and industrial Eu2P partners so that they are grounded in real job market and today's practices.
Eu2P programme is being noticed and recognized worldwide* as an excellent means to get medicines related jobs.
COMPANIES OFFER
Short courses can be included in a training package for your team!
NEED TO TALK TO US?
+33 5 47 30 42 69
Monday-Friday / 9.00am-6.00pm CET