PhD programme
OVERVIEW
---
The Eu2P PhD degree is an academic doctorate of pharmacovigilance and pharmacoepidemiology jointly delivered by Eu2P Academic Partners.
This European diploma is awarded under the authority of each National Ministry of Higher Education or ad hoc authority.
The Eu2P PhD is both supported and recognised by Eu2P regulatory and industrial partners.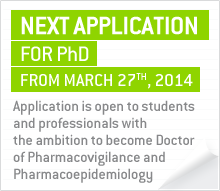 Eu2P PhD programme key information
Annual workload
60 ECTS credits
Pace
Full time or part-time
Training mode
Blended learning
research project + e-learning
Language
English
Degree
PhD of Pharmacovigilance and pharmacoepidemiology
after third year completion and thesis oral defence (180 ECTS credits)
CURRICULUM
The whole Eu2P PhD curriculum covers 3 consecutive years, for a total of 180 ECTS credits, including 120 credits gained progressively researching and writing a thesis (3 years x 40 ECTS credits) and 60 credits for secondary PhD portfolio activities carried out at any given moment during the research period.
PhD students will be driven by several professors belonging to the Eu2P partner Universities for their multiple "co-tutelle" thesis, but also to carry out their advanced project research, Portfolio Activities or simply to meet them and benefit from their knowledge. All these activities will be detailed in their personal Doctoral Study Plan.
Yearly overview of the PhD curriculum
Type of activity
ECTS credits (number/year)
Total of ECTS (credits/year)
Thesis research
Bibliographic knowledge
10
40
Advanced research training
30
Portfolio activities
Eu2P Summer school
4
20
Eu2P local and distant learning
6
Seminars and workshops participation
10
The PhD thesis does not carry any credits associated with it. It is only after 3 years of active and successful research activities (as validated by the supervisors in the different institutions) that the student is envisaging the thesis defence, after approval by the Doctoral Board. After a successful oral defence, the student is declared eligible for the award of the joint PhD degree.
DOCTORAL DURATION
Full-time doctoral study
PhD curriculum should be carried out on a full-time basis for 3 consecutive years with a sufficient funding.
One to two additional years of study may be granted to the full-time PhD student upon his/her formal and justified request presented to the Eu2P Doctoral Board.
Half-time doctoral study
PhD curriculum may be carried out in parallel to a professional occupation with a sufficient funding: in such case, the PhD curriculum may be followed and research carried out on a half-time basis.
Trainees must ensure that they shall be able to complete their research work and defend their PhD thesis within an absolute maximum of 5 years beginning with the date of initial registration in the doctoral programme. No further extension period can be accepted except for justified parental/maternity or sick leave.
REGISTRATION
PROFILE & PREREQUISITES
The Eu2P PhD is open to applicants from both EU and non-EU countries, without limitation in terms of age and nationality who hold a postgraduate diploma (e.g. Master of Science). Applicants may also belong to Universities who are not part of the Eu2P PhD network.
Applicants for the Eu2P PhD must satisfy the entrance requirements for admission to the doctoral programme (3rd cycle within the European Higher Education and Research Area).
Applicants need to have solid background in Public Health especially in Pharmacovigilance and Pharmacoepidemiology documented on the basis of the transcript of records and any other documentation on previous postgraduate training (e.g. Master of Science). Relevant professional experience may also be considered.
To be eligible, you must:
be fluent in English (English taught training)
be familiar with computer use and have Internet access
KEY DATES & COURSE CALENDAR
Academic session 2013-2014

| | |
| --- | --- |
| Application | From September 03rd, 2012 to April 07th, 2013 |
| Selection | June 28th, 2013 |
| Registration | From July 04th, 2013 to September 01st, 2013 |
| Programme | From October 01st, 2013 to October 01st, 2016 |
FEES & SAVINGS
Application fees
The PhD application fees amount is 25.00 Euros.
Those fees can be paid either by on-line payment or by post before the application deadline.
Those fees are not refundable.
Tuition fees
PhD tuition fees are fixed independently of the applicant's status i.e. European or non-European as well as Student or professional.
Annual tuition fees for each year of PhD (academic year 2013-2014)

| Students | Professionals |
| --- | --- |
| 3,000 Euros | 3,000 Euros |
Grant
Eu2P enables grant application for PhD students.
Attribution of this grant is based on merit and reasearch interest grounds.
See Eu2P grant for further details.
Savings
Students and professionals related to Eu2P partners can claim some saving on PhD tuition fees.
See Eu2P savings for further details.
SELECTION BOARD
The Doctoral Board selects the PhD students.
See PhD Selection process for further details.
This board assesses applicants's previous education, work and research experience, prerequisites' compliance, statement of motivation, and specific request such as part-time completion.
See Eu2P academic governance for further details about the Eu2P Doctoral Board.
CONTACT INFORMATION
You can contact the Eu2P central office to get further information about:
Candidate application, selection and enrolment
Tuition fees, grants and savings
Course calendar
Research project placements and mobility
Exams organisation
---
Application to this training closed on April 07th, 2013.
You will be able to apply to the next training session
from January 27th, 2014 to August 31st, 2014.

Contact the Eu2P central office